Дата публикации: 08.03.2021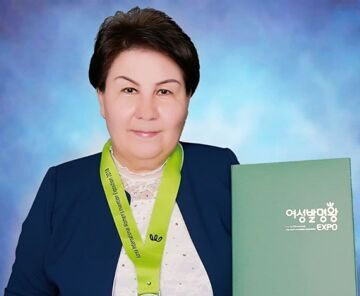 Inventor 2020 exhibition held 23-25 October of that year women in south Korea. The exhibition was attended by participants from more than 30 countries of the world in 518. "Korea international women's Invention Exposition 2020 (2020 KIWIE)". In Uzbekistan the representatives of scientists of intellectual achievement was demonstrated in the appropriate manner. Tashkent state technical university "Metrology, standardization and certification" head of the department, professor Paraxat Matyakubova was also worthy of a patent. "In the evaluation of the effectiveness of the quality management system of intellectual control devices of the software" a gold medal is likely to be found.
The software allows the use of intelligent control tools in a quality management system and the automated evaluation of their effectiveness. It is possible to keep records of measuring instruments of different electrical and non-electrical quantities (humidity, pressure, temperature, concentration, mass, current, voltage), to carry out metrological inspections, control requirements, technical and metrological characteristics of devices.
JESUS 10012 "management system. Measurement processes and measuring device requirements" and iso 9001 "quality management system. The main requirements" in the implementation of the quality management system of international standards, increase the efficiency of intellectual measuring and control instruments, and retention of the test to increase the accuracy and reliability it provides.
The introduction of this international standard quality management system software players in the production, metrology services, measuring and control of the device in the application process can be made. From the program "fundamentals of Metrology", "quality management system", "physical-chemical measurements review", "metrology theoretical" science in the work from the laboratory's use is also possible.
During the exhibition, science in uzbekistan, the development of techniques and technologies of drastic reforms conducted in the effective participation of women in this process, the scientists in their studies and practical activities to stimulate attention by the scientific community and the public in particular, it was noted that comprehensive we know.
Master, scientists and scientists of our country is the pride in caring like you. After all, the science of our country in front of world community hardworking teachers like you evolving manifest the glory of our country, honor, protect, our university by Quacquarelli Symonds in london like you having to scientists and scholars on the most potent agency in the year 2021 for emerging europe and central asia university ranking (QS emerge as Europe and Central Asia University Rankings)from a good place before, this is a joy for us. We wish you good health and great achievements in research activities.